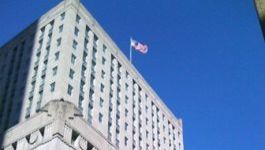 Merck: withdraws European application for drug; shares drop.
(CercleFinance.com) - Merck shares are down almost 5% today, after the US biopharmaceutical company said it has withdrawn the European marketing application for Keytruda as a first-line treatment for metastatic nonsquamous non-small cell lung cancer (NSCLC).


Many analysts have cut their estimates and stock price targets after this setback.

UBS - which maintains a "buy" rating on the shares - has cut its target price from 72 dollars to 67 dollars after cutting its sales estimate for Keytruda.

The broker says a key catalyst has been "significantly delayed" as the lung indication is ramping slower than expected, adding that expectations are now too high on the drug.

Credit Suisse - which has an "outperform" rating on the stock - has also cut its target price on the share from 73 dollars to 70 dollars.

"Not only does this push out approval for Merck, it also opens the door for Roche to potentially beat Merck to the market with a PD-(L)1/chemotherapy combination in 1L NSCLC," it said.

The stock is currently the sharpest faller on the Dow Jones index, down 4.8% at 55.4 dollars.

Copyright (c) 2017 CercleFinance.com. All rights reserved.