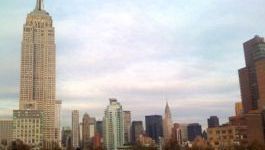 Eli Lilly: presents results of phase 3 study in China
(CercleFinance.com) - Pharmaceutical group Eli Lilly has jointly announced, with Innovent Biologics, the results of a phase 3 study in China.


These results follow the ORIENT-11 trial of Tyvyt (injection of sintilimab) in combination with ALIMTA (pemetrexed) and platinum in first-line advanced or recurrent nonsquamous non-small cell lung cancer (nsqNSCLC), without sensitive EGFR mutation or ALK rearrangement. The trial has met the predefined primary endpoint of progression-free survival (PFS) in an interim analysis.

"Based on the interim analysis conducted by the Independent Data Monitoring Committee (IDMC), sintilimab in combination with ALIMTA and platinum demonstrated a statistically significant improvement in PFS compared with placebo in combination with ALIMTA and platinum," the group said.

Lilly and Innovent will begin regulatory discussions for registration with the National Medical Products Administration (NMPA) in China in the near future.


Copyright (c) 2020 CercleFinance.com. All rights reserved.