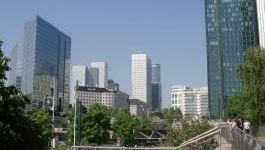 Eli Lilly: collaboration agreement with Germany's CureVac.
(CercleFinance.com) - US drugmaker Eli Lilly has signed a deal with Germany's CureVac to develop up to five potential cancer vaccines that are based on CureVac's proprietary technology.


Under the terms of the agreement, CureVac will receive an upfront payment of 50 million dollars, plus an equity investment of 45 million dollars.

The biopharmaceutical firm is also eligible to receive over 1.7 billion dollars in development and commercialization milestone payments if all five vaccines are successfully developed, plus royalties on product sales.

Lilly said in a statement that it will be responsible for target identification, clinical development and commercialization.


Copyright (c) 2017 CercleFinance.com. All rights reserved.