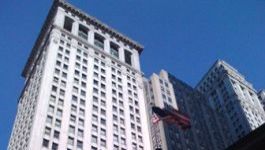 Kraft Heinz: Q3 results in line with estimates.
(CercleFinance.com) - Kraft Heinz did not really surprise when last night it unrevealed Q3 results that were roughly in line with expectations.


Over this period the US agri-food giant posted net income of 944 million dollars, or 77 cents per share, against 842 million dollars, or 69 cents per share a year ago.

Adjusted EPS reached 83 cents, 1 cent above the consensus.

Revenues increased from 6.27 billion dollars to 6.31 billion dollars, while analysts predicted less at 6.33 billion dollars.

Finally, adjusted EBITDA and operating income came in at 1.93 billion dollars and 1.66 billion dollars, compared with 1.8 billion dollars and 1.41 billion dollars respectively.


Copyright (c) 2017 CercleFinance.com. All rights reserved.