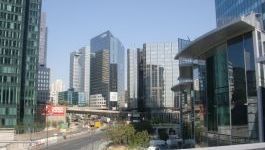 J&J: Janssen unit submits prostate cancer drug application
(CercleFinance.com) - Janssen, the pharmaceutical unit of US healthcare giant Johnson & Johnson, said on Friday that it has filed a marketing application to European regulators for the use of its experimental drug apalutamide to treat patients with prostate cancer.


The submission is based on a Phase 3 clinical trial that showed a 72% reduction in the risk of distant metastasis or death compared to placebo in patients with high-risk non-metastatic castration-resistant prostate cancer (nmCRPC).

Apalutamide is an oral androgen receptor (AR) inhibitor that blocks the androgen signaling pathway in prostate cancer cells.

Copyright (c) 2018 CercleFinance.com. All rights reserved.