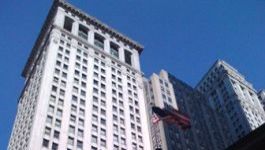 Interpublic: raises dividend, buybacks after 'positive' 2017
(CercleFinance.com) - US ad firm Interpublic has raised its quarterly dividend by 17% and increased share repurchases by an additional 300 million dollars after "positive" results in 2017, the company said on Wednesday.


Fouth-quarter net income available to Interpublic's shareholders fell to 316.6 million dollars, or 82 cents per share, from 317.6 million dollars, or 81 cents per share, a year earlier.

However, the group had to book an income tax provision of 166.1 million dollars in Q4, compared with a provision of 106.1 million dollars in the same period of 2016.

Fouth-quarter revenue reached 2.34 billion dollars, compared with 2.26 billion dollars in fourth quarter 2016, with organic growth reaching 3.3%.

Looking ahead to 2018, Interpublic targets organic revenue growth of between 2% and 3%.

Also, its board has approved a 17% increase in quarterly dividend and an additional 300 million dollars toward its share repurchase program.

Interpublic shares are up as much as 5.5% in pre-market trading on Wednesday.

Copyright (c) 2018 CercleFinance.com. All rights reserved.