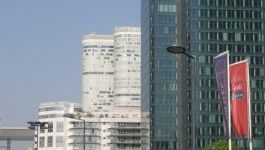 J.B. Hunt: expects net profit falls for Q4
(CercleFinance.com) - J.
B. Hunt Transport Services announces that it expects a net profit of between 85 and 90 million dollars for its fourth quarter of 2017 (77 and 82 cents per share), compared to 117.6 million (1.05 dollars per share) the previous year.

The transport logistics group is also aiming for operating profits of between 145 and 155 million and revenue of between 1.9 billion and 2 billion dollars, compared to 194 million and 1.72 billion in the last quarter of 2016.

"We are in the process of understanding the widespread applicability of the [new fiscal] Act to our financial statements but believe it will [...] [create] an additional one-time benefit for 2017" said the Arkansas-based group.

Copyright (c) 2017 CercleFinance.com. All rights reserved.