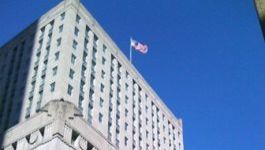 Honeywell: slightly beats consensus in Q3.
(CercleFinance.com) - Honeywell, an industrial group with activities ranging from aerospace to building technology, saw its adjusted EPS increase 16% to 1.
75 dollar over the past quarter, exceeding the consensus by just one cent.

This increase reflects a 120-basis point improvement in its margin for segments at 18.7%, as well as revenues that are up 3% at 10.1 billion dollars. Honeywell's organic sales growth reached 5%.

Group management confirmed its target FY 2017EPS range of 7.05 dollars to 7.10 dollars, remembering that it raised the lower end of this range by five cents this month.


Copyright (c) 2017 CercleFinance.com. All rights reserved.