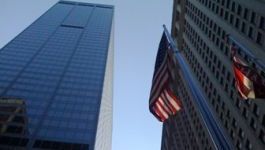 Goldman Sachs: Q3 earnings almost flat.
(CercleFinance.com) - Goldman Sachs announced on Tuesday quarterly results that as a whole were flat y-o-y, with the growth in revenues having been absorbed by a rise in operating expenses at the New York based investment bank.


Overall net income was 2.1 billion dollars, or 5.09 dollars per share, from 2.1 billion, or 4.96 dollars per share, a year earlier.

Analysts had expected earnings of 4.17 dollars per share.

Goldman Sachs has reported net revenues of 8.33 billion dollars, up 2% from the 8.17 billion dollars in Q3 2016.

Goldman's revenue from trading fixed-income securities, currencies and commodities (FICC) fell 26%, due to significantly lower revenues in commodities, fixed income products and currencies.

Total operating expenses rose by 1% to 5.35 billion dollars.

"Our overall performance this year has been solid and provides a good foundation on which to execute and deliver our growth initiatives," said chairman and chief executive officer Lloyd C. Blankfein.



Copyright (c) 2017 CercleFinance.com. All rights reserved.