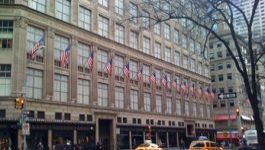 General Motors: exceeds expectations in Q3.
(CercleFinance.com) - General Motors posted adjusted (non-GAAP) EPS from continuing operations that is down 22.
8% at 1.32 dollar for the third quarter, which exceeded the consensus by 20 cents.

The Detroit car maker saw its adjusted operating profit fall 31% to 2.5 billion dollars, meaning a 1.9% fall in its margin to 7.5%, on revenues that fell by 13.5% to 33.6 billion dollars.

CEO Mary Barra stated that the group reported solid results, even with a drop in production, as expected in North America, while GM's CFO, Chuck Stevens, expects strong results towards the end of the year.


Copyright (c) 2017 CercleFinance.com. All rights reserved.