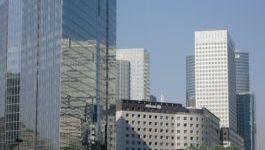 GE: to restate earnings for two last years
(CercleFinance.com) - GE will adopt new financial accounting standards as of 1 January 2018, prompting the group to restate its results for 2016 and 2017, the company said on Friday.


The US conglomerate estimates that 2016 and 2017 restated earnings per share will be approximately 0.13 dollar and 0.16 dollar lower respectively, before any impact from the US tax reform.

"Importantly, application of the new guidance has no effect on the cash we expect to receive nor the economics of these contracts," GE said in a SEC filing.

Rather, the conglomerate thinks the revised standard will more closely align revenue with cash, which it believes "will be helpful to investors," it said.

Copyright (c) 2018 CercleFinance.com. All rights reserved.