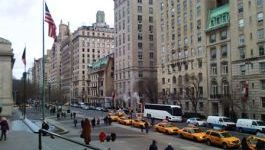 GE: to cut 12,000 jobs at GE Power unit.
(CercleFinance.com) - GE said on Thursday that it plans to lay off approximately 12,000 of its workforce at its GE Power unit, as part of a larger plan designed to cut structural costs by one billion dollars.


The US industrial giant said the headcount reductions, combined with actions taken earlier this year, will position the power generation division to reach its announced target of one billion dollars in structural cost reductions in 2018.

The job cuts are also in line with GE's effort to reduce overall structural costs by 3.5 billion dollars in 2017 and 2018, the diversified group said.

"Traditional power markets including gas and coal have softened," GE said in a statement, adding that volumes are down significantly - driven by overcapacity, lower utilization, and fewer outages.

The company also cites growth in renewables.



Copyright (c) 2017 CercleFinance.com. All rights reserved.