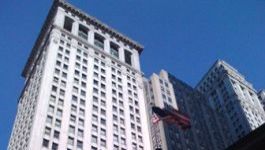 GE: Q3 significantly below expectations.
(CercleFinance.com) - GE (General Electric) reported Q1 adjusted (non-GAAP) earnings of 2.
6 billion dollars, meaning EPS that is down 9% at 29 cents, while the consensus was expecting twenty cents more.

The American conglomerate, which is refocusing on its industrial activities, saw its revenues increase by 14% to 33.5 billion dollars, with organic revenues of its industrial segment down 1% at 26.9 billion dollars.

This segment also saw its operating margin decline by 220 basis points to 11.8%, while order intake increased by 11% to 29.8 billion dollars, bringing the group's order backlog to 328 billion dollars at the end of June.


Copyright (c) 2017 CercleFinance.com. All rights reserved.