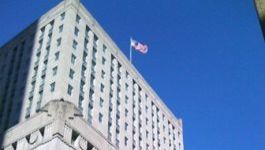 Gap: shares decline after broker downgrades to 'sell'.
(CercleFinance.com) - Shares of Gap are down over 1% one hour into trading on Wall Street Thursday, after Citi downgraded its rating on the clothing retailer.


The US broker has downgraded the stock from "neutral" to "sell," after it has risen by nearly 40% over the past three months.

In a research report, Citi points out that the stock is now trading at 16.7x its estimated FY 2018 EPS and 7.2x its 2018 estimated EBITDA, which it believes exceeds the stock's fair value, skewing the risk/reward to the downside.

As a reminder, the broker has a target price of 28 dollars for the stock.

Gap shares were down 1.3% at 32.1 dollars after these comments.

Copyright (c) 2017 CercleFinance.com. All rights reserved.