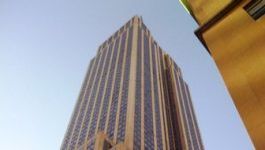 Ford: safety recall on trucks to cost 267 million dollars.
(CercleFinance.com) - Ford said it will incur costs of 267 million dollars after issuing a safety recall for approximately 1.
3 million F-150 and F-250 trucks in North America.

The US carmaker today announced a field service action to correct a frozen door latch issue in certain models of 2015-17 F-150 and 2017 Super Duty vehicles.

The cost will be booked in the group's Q4 results, Ford said, while maintaining its guidance for full-year 2017 adjusted EPS of between 1.65 dollar and 1.85 dollar.

Ford shares are actually down 0.3% at 12.2 dollars.


Copyright (c) 2017 CercleFinance.com. All rights reserved.