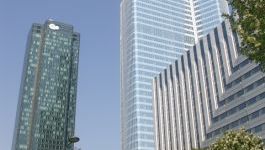 FedEx: cuts full-year outlook, shares fall
(CercleFinance.com) - FedEx, the world's number 3 package delivery company, reported lower quarterly profit and cut its full-year outlook, citing a weakening global macroeconomic environment and increasing trade tensions, sending its shares down on Wall Street today.


FedEx said its profit for the fiscal first-quarter, which ended 31 August, was 745 million dollars, or 2.84 dollars per share, compared with 800 million dollars, or 3.10 dollars per share a year ago.

Its revenue over the quarter was flat, at 17.05 billion dollars.

The Memphis-based company cut its fiscal 2019 guidance, citing increased trade tensions and a further deterioration in global economic conditions since its previous forecast in June.

FedEx now expects EPS of 10 dollars to 12 dollars.

"Numbers have chronically disappointed for the last few quarters, making it increasingly more difficult to defend the stock", one broker noted.

FedEx shares were down 12.8% at 151.2 dollars in early trading, bringing their fall over the past 12 months to 28%.

Copyright (c) 2019 CercleFinance.com. All rights reserved.