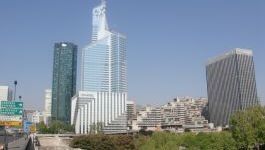 Deere: quarterly profit, 2020 view disappoint
(CercleFinance.com) - Deere, the world's biggest farm equipment maker, posted lower quarterly net profit on Wednesday and provided a disappointing outlook, which sent shares down as much as 5% in pre-market trading.


Net earnings fell to 722 million dollars, or 2.27 dollars per share, in the fourth quarter ended 31 October, compared with 785 million dollars, or 2.42 dollar a share, a year earlier.

Performance reflected continued uncertainties in the agricultural sector, in particular the continuing trade tensions between the US and China, the company said.

The Moline, Illinois-based Deere also cited a year of difficult growing and harvesting conditions, that have caused many farmers to become cautious about making major investments in new equipment.

For the new fiscal year 2020, net income is forecast to be in a range of 2.7 billion dollars to 3.1 billion dollars, Deere said.

In comparison, fiscal year 2019 net income was 3.25 billion dollars.

Copyright (c) 2019 CercleFinance.com. All rights reserved.