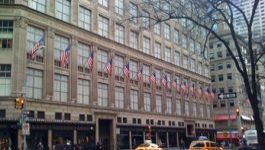 Deere: exceeds expectations in Q1
(CercleFinance.com) - John Deere has reported a net loss of 535.
1 million dollars in Q1 2017-18, stemming from the US tax reform.

Excluding the reform, net income was 430 million dollars, or 1.31 dollar per share, 11 cents higher than expected.

Farm and construction equipment sales rose by 23% to 6.9 billion dollars, with "strong increases in demand for its products as conditions in key markets show further improvement."

For FY 2018, the company from Moline (Illinois) expects earnings of about 2.1 billion dollars (2.85 billion dollars adjusted) on equipment sales that are up about 29%.


Copyright (c) 2018 CercleFinance.com. All rights reserved.