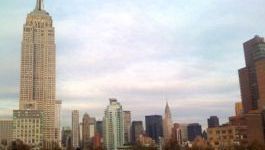 Deere: beats consensus in Q4.
(CercleFinance.com) - On Wednesday John Deere reported Q4 2016-17 earnings that were up 79% at 510.
3 million dollars, or 1.57 dollar per share, against the consensus of around 1.45 dollar.

Revenues over the three last months of its fiscal year rose 23% to slightly over 8 billion dollars, boosted by better market conditions for farm and construction equipment, particularly in South America.

Affichant un bénéfice net annuel de 2.159 millions de dollars, supérieur à son dernier objectif qui était de l'ordre de 2.075 millions, Deere l'anticipe aux environs de 2.600 millions sur l'exercice 2017-18, pour un chiffre d'affaires en hausse d'environ 19%.

Reporting FY net profit of 2,159 million dollars, above its latest target of around 2,075 million dollars, Deere currently expects around 2,600 million dollars over FY 2017-18, on revenues that are up about 19%.

Copyright (c) 2017 CercleFinance.com. All rights reserved.