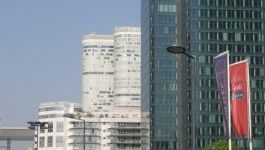 Costco Wholesale: exceeds expectations in Q1.
(CercleFinance.com) - Costco Wholesale has reported net income that is up 17% at 640 million dollars in its first accounting quarter (ended 26 November), meaning EPS of 1.
45 dollar, 12 cents above the consensus.

The warehouse distributor's net sales increased by 13.3% to 31.1 billion dollars as reported, and were up 10.5% at constant stores (+7.9% excluding the impact of gasoline price changes and FX factors).

The Issaquah-based (State of Washington) group currently operates 746 warehouses worldwide, including 518 in the United States and Puerto Rico, 98 in Canada, 37 in Mexico, and dozens in Europe and Asia-Pacific.


Copyright (c) 2017 CercleFinance.com. All rights reserved.