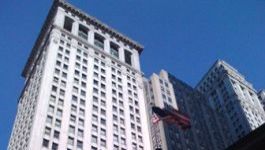 Conagra: robust quarterly results and an acquisition
(CercleFinance.com) - Conagra Foods has announced adjusted EPS from continuing operations that is up 12.
2% at 55 cents for Q2 2017-18, with sales up 4.1% at almost 2.2 billion dollars (+2.3% in organic terms).

Based on these performances, the agri-food group now expects full-year adjusted EPS and organic growth that are close to the upper limits of their target ranges, of 1.84 dollar to 1.89 dollar and -2% to 0 respectively.

In addition, Conagra has announced an agreement for the acquisition of Sandwich Bros. of Wisconsin, for an unspecified amount. The transaction is set to be finalized in early 2018, after usual conditions and regulatory approvals are completed.


Copyright (c) 2017 CercleFinance.com. All rights reserved.