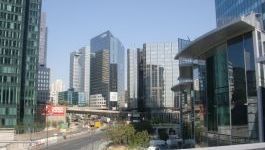 Cisco: beats consensus and raises dividend
(CercleFinance.com) - On Wednesday evening Cisco Systems reported Q2 2017-18 adjusted net income that is up 10% at 3.
1 billion dollars, meaning EPS of 63 cents, beating the consensus by four cents.

The Network equipment giant's revenue increased by 3% to 11.9 billion dollars, once again above analysts' expectations, with the proportion of recurring revenue up two points y-o-y at 33%.

On the strength of these performances, Cisco's Board of Directors decided to raise its quarterly dividend per share by 14% to 33 cents and increase its authorized share buyback by 25 billion dollars, bringing it to 31 billion dollars.


Copyright (c) 2018 CercleFinance.com. All rights reserved.