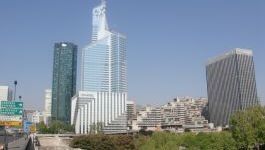 Caterpillar: new head of BCP division
(CercleFinance.com) - Caterpillar has announced the appointment of Tony Fassino as Vice President, in charge of the Building Construction Products (BCP) division, replacing Ken Hoefling, who recently left the group to work at another company.


Le géant américain des équipements de chantiers précise que sa division BCP conçoit, fabrique et accompagne ses gammes d'outils de travail et d'équipements de construction de petite taille et flexibles.

The US building equipment giant states that its BCP division designs, manufactures and supports its range of small, versatile construction equipment and work tools.

Present in the Deerfield group, in Illinois, for over 20 years, Tony Fassino was most recently the general manager of forest products. He will take up his new duties on 1 March.


Copyright (c) 2018 CercleFinance.com. All rights reserved.