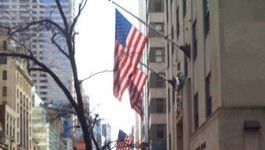 Boeing: raises full-year forecasts after record deliveries.
(CercleFinance.com) - Boeing raised its full-year forecasts on Wednesday after delivering a record number of commercial airplanes in Q3.


Over the past quarter, the US planemaker's net income fell by 19% to 1.85 billion dollars, or 3.06 dollars a share, from 2.28 billion dollars - or 3.60 dollars per share - a year ago.

Core earnings, which exclude pension and other postretirement expenses, reached 2.72 dollars, compared with 3.51 dollars in the same period one year ago.

Revenue increased by 2% to 24.3 billion dollars.

Over the quarter, Boeing delivered a record of 202 commercial airplanes, including 24 737 MAX 8 airplanes.

Citing strong deliveries, and a lower-than-expected tax rate, Boeing raised its full-year core (non-GAAP) EPS guidance to between 9.90 dollars and 10.10 dollars, from a previous forecast of between 9.80 dollars and 10 dollars.

After these results, Boeing shares were trading 1.6% lower in premarket trading today.



Copyright (c) 2017 CercleFinance.com. All rights reserved.