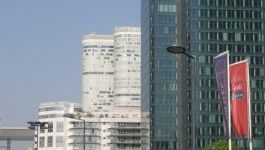 Apple: ends year in beauty.
(CercleFinance.com) - Apple has ended its fiscal year with Q4 EPS that is up 24% at 2.
07 dollars (to end-September), therefore exceeding the consensus by 20 cents.

Up 12% at 52.6 billion dollars, revenues also significantly beat the consensus of just under 51 billion dollars, including a 3% increase in the number of iPhones sold, at nearly 46.7 million units.

Confident about the forthcoming festive season, Apple's management says it expects a gross margin of between 38% and 38.5%, with revenues of between 84 billion and 87 billion dollars, for Q1 2017-18.


Copyright (c) 2017 CercleFinance.com. All rights reserved.