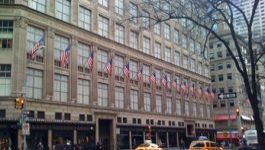 Amazon: Susquehanna now targets 1,300 dollars.
(CercleFinance.com) - Broker Susquehanna maintains its "positive" view on Amazon and has raised its target price on the stock from 1,250 dollars to 1,300 dollars after the Seattle-based company posted its Q3 results last night.


"eCommerce, cloud, and advertising all deliver big," the brokerage firm said.

Susquehanna says it continues to remain positive on the shares as it sees the company as a "long-term secular grower" with leadership positions in two large growth markets — e-commerce and cloud.

The analyst also notes that a third one — advertising — is now ramping quickly, leading him to expect numbers to increase over time.


Copyright (c) 2017 CercleFinance.com. All rights reserved.