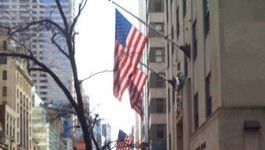 Amazon: easily beats consensus in Q3.
(CercleFinance.com) - Amazon has indeed delivered.


Published last night, the US e-commerce giant's came in well above market expectations.

The group reported earnings of 256 million dollars over the period, representing EPS of 52 cents, against 252 million dollars, also representing 52 cents per share a year earlier. The consensus was looking for slightly lower EPS at 49 cents.

Revenues increased by 33.7% y-o-y to 43.7 billion dollars, against 42.1 billion expected by analysts. The online distribution business saw its revenues rise by 22% to 26.4 billion dollars, which Aurel BGC hailed as its strongest growth for over a year.



Copyright (c) 2017 CercleFinance.com. All rights reserved.