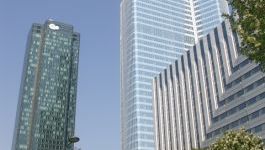 Alphabet: Eric Schmidt to step down as executive chairman
(CercleFinance.com) - Google-parent company Alphabet said that its long-time leader Eric Schmidt would be "transitioning" from his position as executive chairman of the board of directors early next year.


The decision, which will be effective at the next regular board meeting in January 2018, does not mean that Eric Schmidt - who joined the company in 2001 - will cut ties with the tech giant altogether.

Indeed, the executive will become a "technical advisor" for the company and will continue to serve on the board.

Schmidt - who wants to focus more on philanthropy, science and technology issues - said he believes it was the right time for such a transition.

"The Alphabet structure is working well, and Google and the Other Bets are thriving," he said.

Alphabet said it now plans to appoint a non-executive chairman, with Larry Page keeping his role as CEO.


Copyright (c) 2017 CercleFinance.com. All rights reserved.