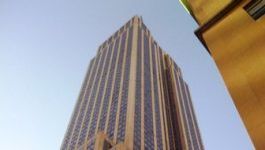 Alphabet: shares towards new records on Wall Street.
(CercleFinance.com) - The Californian Internet giant Alphabet, Google's parent company, has once again reported excellent quarterly results, which have easily exceeded the consensus.


On Wall Street, the class A Alphabet share is up around 4% in pre-market electronic transactions, at 1,021 dollars, which represents a new peak.

In 131 days, the company's market capitalization has increased by 100 billion dollars, an all-time record in the history of Wall Street, Aurel BGC analysts commented this morning, with the group's total valuation now reaching 700 billion.

In Q3, the group's sales rose by a robust 24% to 27.8 billion dollars, both including and excluding FX factors.

With operating profit up nearly 35% at 7.8 billion dollars, the group's operating margin has risen from 26% to 28%. Finally, net income works out at 6.7 billion dollars (9.57 dollars per share), up 33%. As such the group's earnings exceeded the consensus by over 15%.


Copyright (c) 2017 CercleFinance.com. All rights reserved.