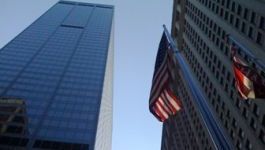 AT&T: Warner's 'It Chapter Two' tops US box office
(CercleFinance.com) - Horror movie "It Chapter Two" stole the show and took the top spot at the US box office on its opening weekend, according to Box Office Mojo on Monday.


The Stephen King adaptation, starring James McAvoy and Jessica Chastain, stormed in at number one, grossing 91 million dollars over the 6-8 September period.

It knocked the action thriller "Angel has Fallen" and comedy "Good Boys" out in the process.

For the record, 2017's "It" grossed over 700 million dollars worldwide.

The "It" franchise is produced by the New Line Cinema studio, which is owned by Warner Bros. Pictures, which itself belongs to US telecom giant AT&T.

Copyright (c) 2019 CercleFinance.com. All rights reserved.