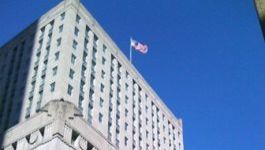 AT&T: to pay special bonus to US employees with tax bill
(CercleFinance.com) - AT&T appears to be fairly optimistic about the effects of the tax bill that was voted yesterday by the US Congress.


After saying on Wednesday that it planned to invest an additional 1 billion dollars in the United States in 2018, the telecoms giant said it would pay a special 1,000-dollar bonus to its US employees, which exceed 200,000.

If President Donald Trump signs the bill before Christmas, employees will receive their bonus over the holidays, the company added.

"This tax reform will drive economic growth and create good-paying jobs," said Randall Stephenson, AT&T chairman and CEO.


Copyright (c) 2017 CercleFinance.com. All rights reserved.