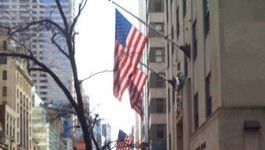 Statoil: shares fall over 3% after quarterly loss.
(CercleFinance.com) - Shares in Statoil fell sharply on Thursday, after the Norwegian oil firm reported a higher loss in its third quarter, impacted by impairment charges.


The company said it made an IFRS net loss of 500 million dollars in the past quarter, compared with a 400 million dollar loss in the same period last year.

Satoil said its performance was impacted by a net impairment charges of 800 million dollars, mainly related to lower-than-expected production at its unconventional onshore business in North America.

Besides this, the group cited "good operational performance," with 15% production growth over the quarter. The growth in production is expected to increase to around 6% in 2017.

The Statoil share is currently down 3.1% at 160.6 Norwegian kronor in afternoon trading on the Oslo Stock Exchange (OSE).

Copyright (c) 2017 CercleFinance.com. All rights reserved.