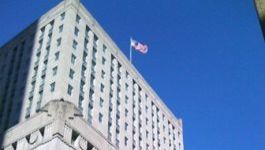 Philips Lighting: Philips cuts stake further
(CercleFinance.com) - The Philips Lighting stock is down 1.
8% in Amsterdam today, suffering from Philips reducing its stake in its capital through the sale of 16.22 million shares on the market, which will raise about 520.7 million euros.

Through this transaction, at a price of 32.1 euros per share, Philips is reducing its stake in its former lighting business from 29.59% to 18%.

This is part of Philips' aim to fully leave Philips Lighting's capital.
As part of this transaction, Philips Lighting will buy 2.2 million of its own shares before cancelling them, a transaction that should increase the electronics group's stake to 18.3% in its capital.


Copyright (c) 2018 CercleFinance.com. All rights reserved.