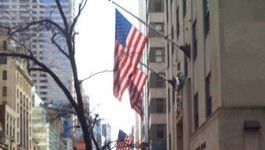 Euronext: beats consensus in 2017
(CercleFinance.com) - Euronext has reported 2017 earnings that are up 22.
5% at 241.3 million euros, or 3.47 euros per share. Adjusted EPS increased by 4.8% to 3.09 euros, beating the consensus by 13 cents.

The pan-European exchange group saw its EBITDA rise by 4.9% to 297.8 million euros, meaning a margin that is down 1.2 points to 55.9% on revenues that are up 7.2% at 532.3 million euros, in particular, thanks to its diversification initiatives.

Euronext will propose a dividend per share that is up 21.8% at 1.73 euro. It has confirmed its target for an EBITDA margin of between 61% and 63% excluding clearing for 2019, as well as 2% growth per annum in revenues of its core businesses over 2015-2019.


Copyright (c) 2018 CercleFinance.com. All rights reserved.