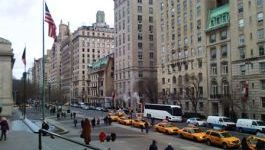 Airbus: first automatic take-off based on vision
(CercleFinance.com) - Airbus has successfully completed the first fully automatic take-off that is based on vision using an Airbus family test aircraft at the Toulouse-Blagnac airport.


The test crew made a total of 8 takeoffs over a period of four and a half hours. This automatic take-off was activated by image recognition technology that is directly fitted on the plane.

Automatic take-off is an important step in ATTOL (Autonomous Taxi, Take-off & Landing) for Airbus. Launched in June 2018, ATTOL is one of the tested technology demonstrators tested by Airbus to understand the impact of autonomy on aircraft, Airbus said.

Copyright (c) 2020 CercleFinance.com. All rights reserved.