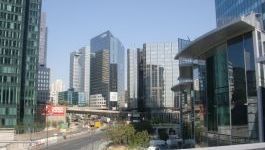 Airbus: Chile's SKY airline orders 10 A321XLR
(CercleFinance.com) - SKY, an ultra-low-cost Chilean airline, has signed a contract with Airbus for 10 A321XLRs, with a view to developing its international footprint.


"The A321XLR will deliver an unprecedented narrow-body airliner range of up to 4,700nm, with 30 percent lower fuel consumption per seat compared with previous-generation competitor jets, allowing airlines to expand networks by making new longer routes economically viable," Airbus said.

Arturo Barreira, President of Airbus Latin America added, "We are delighted that SKY has selected the A321XLR to further expand its fleet of all Airbus aircraft. The A321XLR will allow SKY to offer its customers new destinations, such as direct flights from Santiago in Chile to Miami in the U.S."

SKY's fleet consists of 23 A320 family aircraft flying both domestic and international routes from Chile to Argentina, Brazil, Peru and Uruguay.


Copyright (c) 2019 CercleFinance.com. All rights reserved.