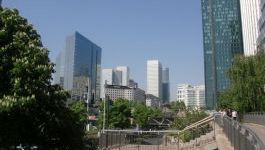 Airbus: forecasts for new aircraft in next 20 years
(CercleFinance.com) - This morning Airbus Group updated its medium-term forecasts for the aircraft market.


By 2038, Airbus says that the world passenger and freighter aircraft fleet is expected to rise from nearly 23,000 to 48,000 planes, representing an average annual increase of 4.3%. To cope with this, 550,000 new pilots will need to be trained,as well as about 640,000 technicians. Therefore, air traffic, which has more than doubled since 2000, has further growth potential.

By 2038, according to Airbus' estimates, the world fleet would be about 47,680 aircraft, of which 8,470 will come from the current fleet, with the remaining 39,210 new planes. Out of them, 29,720 would be from the "small" ("small" category), a segment including the A320 family where Airbus has a solid base.


Copyright (c) 2019 CercleFinance.com. All rights reserved.