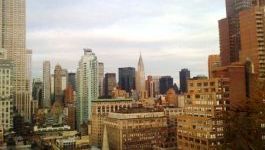 Airbus: in-flight testing of IoT connected cabins
(CercleFinance.com) - Airbus announces that it has begun in-flight testing of IoT connected cabin technologies on an A350-900 lab aircraft, which will soon be presented to clients.


Airbus becomes the first aircraft manufacturer to conduct such in-flight tests of real innovations in connected cabins.

The platform, known as the Airspace Connected experiment, was unveiled at the APEX Expo last year.

"These include prototypes of the connected iSeat (Recaro), the Connected Galley (gategroup), a remote wireless cabin management control system, a large OLED display and importantly, the first step of Airbus' new "IoT backbone" which includes an open software platform".

"Passengers will receive a more personalised travel experience specifically targeted to the individual needs and preferences, based on the available data. In particular this covers pre- and remote ordering of preferred meals, booking of private bin space, setting of individual seat positions as well as a tailor-made inflight IFE offer," Airbus said.


Copyright (c) 2019 CercleFinance.com. All rights reserved.