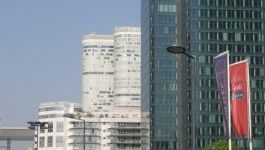 Airbus: partnership with Telespazio for Syracuse IV
(CercleFinance.com) - Airbus and Telespazio (Leonardo/Thales) announce a partnership to sell military telecommunications services on Syracuse IV satellites.


This partnership makes will be France's leading private operator of military satellite telecommunications.

"Syracuse IV is a telecommunication system consisting of two military satellites, Syracuse 4A and 4B, plus ground stations to ensure communications in the operational areas and with mainland France... These new-generation satellites will be the first to offer a completely flexible reconfiguration of the X‑ and Ka-band military payload as well as the means of protection and hardening against cyber, jamming, intercept and EMP-type threats," the group said.


Copyright (c) 2019 CercleFinance.com. All rights reserved.