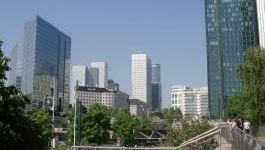 Airbus: partnership with Rolls-Royce and Siemens.
(CercleFinance.com) - Airbus has formed a partnership with Siemens and Rolls-Royce to soon develop a flight demonstrator in hybrid-electric propulsion for commercial aircraft.


Under this project, which the three companies presented to the Royal Aeronautical Society in London, the demonstrator, called "E-Fan X" is scheduled to fly in 2020, following extensive ground tests.

This demonstrator will explore the challenges of this type of propulsion system, such as thermal effects, electrical thrust management, dynamics and altitude effects on electrical systems, and electromagnetic compatibility issues.


Copyright (c) 2017 CercleFinance.com. All rights reserved.