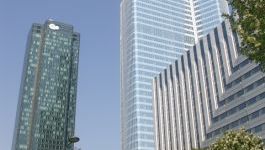 STMicroelectronics: acquires 100% of Norstel
(CercleFinance.com) - STMicroelectronics announces that it has completed the acquisition of 100% of Norstel, a Swedish manufacturer of silicon carbide (SiC) inserts.


The group has exercised its option to acquire the remaining 45% of Norstel's share capital. The group paid for this acquisition, for a total value of 137.5 million dollars, from its free cash.

Norstel will be fully integrated with ST's global R&D and manufacturing activities.

"It will boost our flexibility, allow us to control better the improvement of yield and quality of the wafers, and support our long-term silicon carbide roadmap and business," said Jean-Marc Chery, President and CEO of STMicroelectronics.


Copyright (c) 2019 CercleFinance.com. All rights reserved.