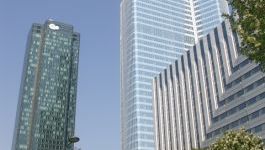 STMicro: sequential rise in Q3 earnings.
(CercleFinance.com) - STMicroelectronics has announced quarterly net income which is up 56% at 236 million dollars, or 0.
26 dollar per share, with an operating margin before depreciation and restructuring costs of 13.7% vs. 9.6% in the previous quarter.

This increase in profitability is based on net sales of 2.14 billion dollars, up 11.1% sequentially, with a gross margin of 39.5%, up 120 bp in sequential terms.

STMicro now expects full-year net revenue growth of approximately 18% year-on-year in 2017, accompanied by a significant improvement in operating profitability and net income.


Copyright (c) 2017 CercleFinance.com. All rights reserved.