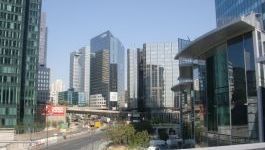 Heineken: shares down after in-line 2017 results
(CercleFinance.com) - Heineken on Monday said revenue, profit and beer volumes grew in 2017, driven by strong growth in the Asia-Pacific zone.


However, its share is currently down 3.1% at 81.2 euros in early morning trading today, with these figures broadly in line with estimates.

The Dutch brewer said revenues grew 5.4% in the past year to 21.9 billion euros, compared to the consensus of 22 billion euros. Organic revenue growth reached 5%, with consolidated beer volume up 3%.

The best performance came from the Asia-Pacific zone, where organic growth reached 8.9%, however, there was double-digit growth in volumes in Brazil, South Africa, Russia, Mexico and Romania.

Up 3.2%, operating profit of 3.8 billion euros was slightly ahead of the consensus (3.7 billion euros), while net profit grew 25% to 1.9 billion euros.

For 2018, the company expects further organic growth in revenues and profit, and targets around a 25-basis point expansion in its operating margin, from 17.2% last year.

Copyright (c) 2018 CercleFinance.com. All rights reserved.