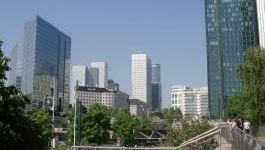 AkzoNobel: FY income down 14%
(CercleFinance.com) - AkzoNobel is up around 1.
75% at present in Amsterdam today, despite publishing 2017 net profit that is down 14% at 832 million euros, with operating profit that is up 2% at 1,525 million euros, in line with its preliminary estimate.

The Dutch chemist's revenues rose by 3% to 14,575 million euros, again in line with its announcement a month ago, including the specialty chemicals business, which is expected to be split from the rest of the group next month.

For 2017 AkzoNobel will propose a dividend per share that is up 52% at 2.50 euros. The group has confirmed its targets for 2020 for its paints and coatings activities and for specialty chemicals.


Copyright (c) 2018 CercleFinance.com. All rights reserved.