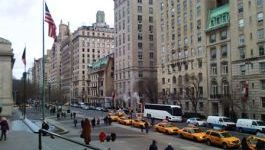 ArcelorMittal: change in HR management
(CercleFinance.com) - ArcelorMittal today announces the retirement of Mr.
Henri Blaffart, Executive vice president, group head of HR and corporate services of ArcelorMittal.

Mr. Blaffart will retire as a member of the Executive Committee and Director of Human Resources and Business Services on 30 March 2018.

Mr. Blaffart joined the group in 1978 as a civil engineer in charge of product development. In 2010, he became Human Resources Manager for the Group's Flat Carbon Europe division and became a member of its management committee.

Mr. Blaffart's position of Executive Vice President and head of human resources will be entrusted to Mr. Bart Wille. He spent many years at Unilever in a number of human resource positions. Mr. Wille has also been appointed member of the executive committee.


Copyright (c) 2018 CercleFinance.com. All rights reserved.