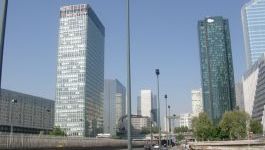 Generali: quarterly accounts unsurprising.
(CercleFinance.com) - The Italian insurer Generali reported unsurprising quarterly results.


Gross premiums recorded are being maintained, even though the group's net income is suffering from the depreciation of the Dutch subsidiary and natural disasters. However, recurrent earnings are increasing.

Over the first nine months of its fiscal year, the insurer received gross premiums of 51.6 billion euros, slipping 0.1%. However, they are stable on a comparable basis, thanks to growth recorded in Q3. The slight contraction recorded at its majority segment - life insurance - was again offset by a rise in property and casualty insurance.

Operating income remained stable at 3.6 billion euros. The Property and Casualty division had to pay compensation amounting to 260 million euros, due to natural disasters, in particular reflecting the storms in Europe over the summer and North American hurricanes in the autumn.


Copyright (c) 2017 CercleFinance.com. All rights reserved.