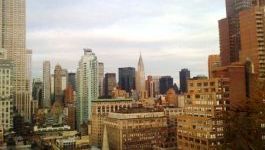 Ryanair: reaffirms full-year guidance; shares take off.
(CercleFinance.com) - Ryanair on Tuesday confirmed its full-year guidance, after both profit and passenger numbers rose by 11% in the first half of the current fiscal year.


The Irish low-cost airline reported an 11% increase in first-half pre-tax profit at 1.29 billion euros, on the back of traffic that was also up 11%, to 72 million passengers, thanks to a strong Easter season.

Average fares fell by 5% over the first six months of the year and are set to fall by 4% to 6% over the full-year, which is slightly better than previous guidance (-5% to -7%), Ryanair said.

Ryanair again confirmed its forecast of posting full-year pre-tax profit that is in a range of 1.40 billion euros to 1.45 billion euros, depending on Brexit developments.

"These strong first-half results reinforce the robust nature of Ryanair's low fare, pan-European growth model even during a period which suffered a material failure in our pilot rostering function in early September," chief executive Michael O'Leary said in a statement.

"Higher costs from the pilot rostering problems have been absorbed, with a slight improvement in the outlook for both average fares and ancillary revenue offsetting non-fuel cost inflation," commented analysts at Liberum, who have a "buy" rating on the shares, with a target price of 21 euros.

Ryanair shares opened up 4.4% at 16.5 euros on Tuesday, while in comparison the STOXX Europe 600 Optimised Travel & Leisure index is up just 0.3%. Ryanair shares have risen by 13.8% year-to-date.

Copyright (c) 2017 CercleFinance.com. All rights reserved.