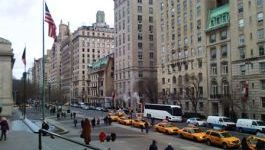 CRH: shares down slightly after disappointing update.
(CercleFinance.com) - CRH shares were slightly down on Tuesday after the Irish building materials group posted a "slightly disappointing" third-quarter update.


The Dublin-based group said that its EBITDA rose 2% over the past quarter, just like in the first six months of the year, showing no acceleration.

Over the full-year, CRH said it still expects EBITDA including discontinued operations to exceed 3.2 billion euros.

Analysts at Bryan Garnier, who had a full-year estimate of 3.3 billion euros, said the guidance is "not very promising."

Shares in CRH, which represents a large share of the Irish stock exchange, are currently down 0.7% at 30.7 euros this morning, while the ISEQ 20 index is up 0.2%.

Copyright (c) 2017 CercleFinance.com. All rights reserved.