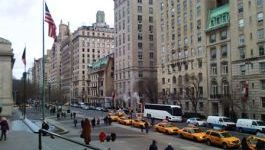 Vodafone: sells 51% stake in Qatar joint venture
(CercleFinance.com) - Vodafone is to sell its 51% stake in the joint venture company that controls Vodafone Qatar, based on an enterprise value of 1.
45 billion euros, the British telecom group said on Monday.

A private, non-profit making organisation, Qatar Foundation will acquire Vodafone's stake for a total cash consideration of 301 million dollars, the company said.

The Vodafone brand will remain in Qatar through a five-year agreement, which also covers the business and assets of Vodafone Group.

Vodafone Qatar has around 1.4 million customers.

Copyright (c) 2018 CercleFinance.com. All rights reserved.