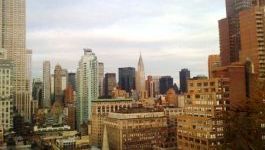 Royal Mail: shares down slightly after cautious comments.
(CercleFinance.com) - Royal Mail struck a cautious tone for the second part of its financial year, saying that performance will depend on the key Christmas period, which resulted in its shares falling by 1%.


In a trading statement the company said that for the half-year ended 24 September that revenue was up 2% on an underlying basis, in line with the consensus.

Pre-tax profit reached 250 million pounds, versus 252 million pounds in the same period of the previous financial year, which exceeds market estimates.

"The results themselves appear quite good, with trends showing some improvement. However, the caution on second half may mitigate any upside," UBS commented.

Indeed, Royal Mail admitted that it was facing increased cost pressures in the second half, citing the impact of potential disagreements and disputes with trade unions.

As a result, Royal Mail shares are currently down 1% at 385 pence.

Copyright (c) 2017 CercleFinance.com. All rights reserved.